Basket Hall
Lokomotiv Kuban home arena opened in 2011. It was a big event for Krasnodar. From the very beginning of its operation, the arena was full with spectators – it happened at home game in January 2012. The Krasnodar basketball arena became a true tourist attraction of the city and the region. Basket Hall is not only Lokomotiv home arena but also a modern sports complex welcoming various team sports competitions at the highest level.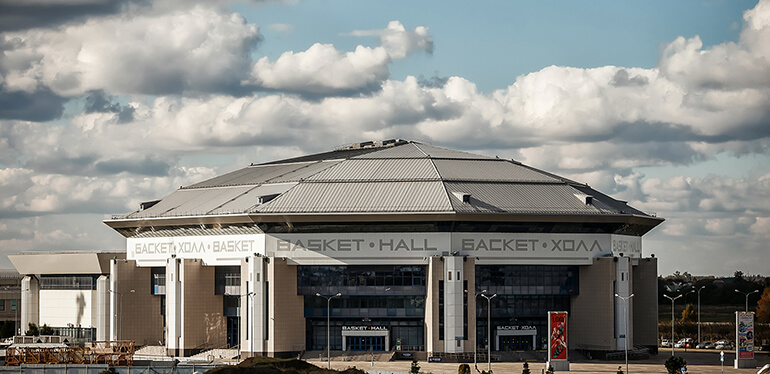 The capacity of the central arena is 7 500 seats. There are comfortable conditions for creating breathtaking fascinating sports show. PSSO sound system is located all around the hall. High quality lightning increases entertainment effect and creates a decent picture for TV broadcasting. HARO parquet is a special pride of Basket Hall – the court meets NBA requirements. A new wide Mondo screen was established in the 2011/2012 season to make basketball an unforgettable event. It is an alternative to traditional information cubes in basketball arenas.
Basket Hall has all conditions for athletes' training and development: on the second floor, there is a gym with telescopic bleachers for 500 seats, as well as training equipment, showers, comfortable locker-rooms.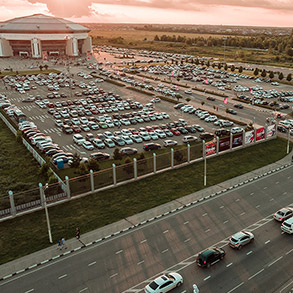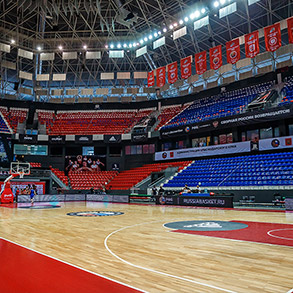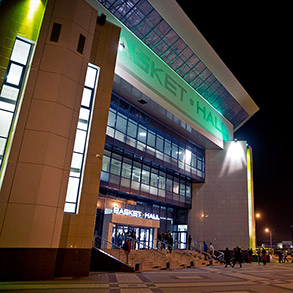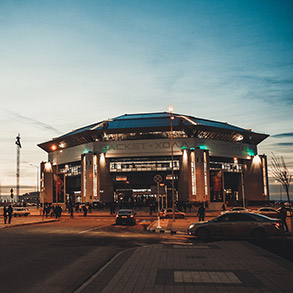 Conditions improvement is still going on. The parking was extended. Fan shops are available for fans. Additional food service areas are being created.
Basket Hall was restyled in summer 2016. The interior was painted from white into dark grey.
On September 17th, 2016, Basket Hall welcomed the Day of Basketball devoted to the 70th anniversary of PBC Lokomotiv Kuban and the first game of the Russian national team in Krasnodar.
In the 18/19 season, we installed a media cube in the Basket Hall arena to make every game an unforgettable event.
360° Arena-Panorama
We have a panoramic model of Basket Hall Arena for your convenience. So you can judge the view from the chosen section ahead of buying tickets.
Get to Basket Hall
Basket Hall address:
24, Prigorodnaya St., Krasnodar
Transportation: You can reach the arena by bus or by taxi bus on the following routes:
29 – TsKR (Ulitsa Kalinina) – Ulitsa Prigorodnaya (Posyolok Severny)
29A – TsKR (Ulitsa Kalinina) – Ulitsa Srednyaya
32 – Yubileyny MKR – Ulitsa Tretya Trudovaya
38 – Yubileyny MKR – Ulitsa Yekaterinidarskaya
67 –Kooperativny Rynok – Ulitsa Devyataya Tikhaya
106A – Kooperativny Rynok – Posyolok SKPNIISIW (Vodnikov)
163A – Poliklinika (Ulitsa Atarbekova) – 16 km Rostovskoye Shosse
182A – TsKR (Ulitsa Kalinina) – Posyolok SKPNIISIW (Vodnikov)
To the stop: Audi-Center.
Scheme Parking spaces Basket-Hall and its surroundings
Basket Hall address: 24, Prigorodnaya St., Krasnodar