Errick McCollum just turned 34 and there's still plenty of gas in the tank before he calls it a day from playing, as he explained in his interview with Eurohoops.
Article by Antigoni Zachari on eurohoops.net
Errick McCollum had turned 34 on January 22, though he's far from being satisfied or done with the game of basketball. In fact, he has plenty more gas in the tank and plenty of goals to achieve before calling it a day.
The Lokomotiv Kuban superstar talked to Eurohoops about these future goals, his mindset towards achieving them, and how his opponents try to raise hell against him – to no avail, bearing in mind that he currently leads EuroCup with 22.7 points per game.
McCollum, a five-season EuroCup veteran is well accustomed to the competition and all of its formats through the years and deems that the change of the regular season format was a positive one, though he has some objections about the playoffs.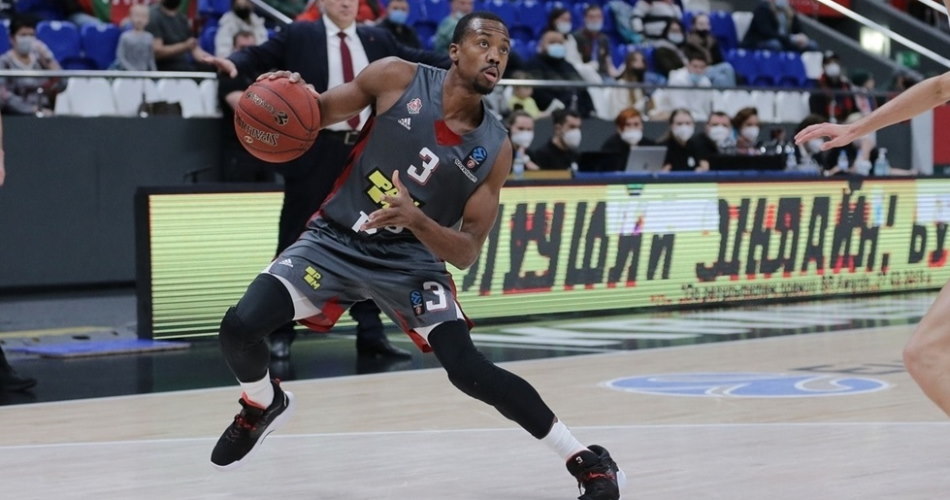 «I like the regular season format, it gives you a chance to play, I guess it gives you an easier perspective because you play with a lot of teams and not just in a small group», he tells Eurohoops. «I'm not a big fan of the playoff format, with the elimination games instead of a series. I think a best-of-three series is how it was, I like that. And before that it was one game home, one game away, that was fun as well. Either way, we just got to go out there, there's a smaller margin for error, especially considering that homecourt is very important. You can lose to anybody and you can beat anybody in one game. That's kind of my mindset».
This format change brings up another interesting storyline – McCollum is actively chasing the top of the all-time scoring leaderboard, a head-to-head battle with Valencia's Bojan Dubljevic, a battle that's expected to last all season long.
«He's played a lot more games than me in EuroCup», tells McCollum, and numbers confirm. As of the time of this interview, there's a 45-game separation between the two players, but only a 33-point difference (1522-1489).
«For me, it's much more difficult with fewer games played to catch someone, but I think the way I score the basketball, for me it's more about just coming out winning, doing what my team needs in each situation, they do need my scoring so I gotta that within the floor. If the record's meant to be mine, it will be mine, but I feel with so many games in the season with the current format and with how I'm playing, I believe I will have it pretty soon. But he's also younger than me, so who knows, maybe in the future, he'll take it back».
The kicker to the story is that McCollum has had more responsibility for Lokomotiv in the recent weeks, with star Johnathan Motley sidelined due to injury, which means more playing time and taking more shots.
The two make up an explosive duo, arguably the strongest in EuroCup this season, and McCollum has taken on to show Motley the ropes of European basketball, bearing in mind that it's the latter's first European experience.
«I tried to explain to him… throughout the course of my career, pretty much everybody traps me. Now we're at the point that if you trap me, you'll allow him to shoot and roll and he's a really good shooter in the mid-range, he can also finish above the rim. He's explosive. He's shooting almost 65%", says McCollum. «But if you don't double me in the pick-and-roll, now I can come off, I can hurt you with the pull-out jumper, with the three-point shot, getting into the paint, drawing fouls. I think really that teams have to pick their poison. You can't stop us both, you have to choose to try and slow one down and I think that has proved to be more difficult as we've shown this season. So we just gotta continue to work and I've just been preaching to him to be dominant, do what you gotta do. We just gotta keep it going, it's not easy, but the young guys are stepping up and showing maturity».
McCollum is what you'd call a «late bloomer». He's been also credited as the «best older brother, not in the NBA», but much like his brother, CJ, he's a… trailblazer himself, set out to prove his critics wrong.
«Early in my career, I came from a small school, I played Division II in NAIA, you know I didn't have a big name as far as like those Duke, those North Carolina, Michigan State players. I came from a small school, I started small leads in the second division and I kinda earned everything I had and it made me work harder» McCollum explained.
«It made me appreciate my journey. It turned out to be a good story. I think everybody respects my body of work, I won championships, I won many MVPs, many Scoring titles and I think everybody knows what I do. Statistically, or individually speaking, my performance has never been a question, I think that's pretty clear», he adds. «This season, for me it was just coming out winning and as you get older, everybody thinks one day you will slow down. One day you're not going to be as productive, you know I have so much to access that every year they keep wondering «is this the year?, is this the year?». So my mindset coming to this year was «this is not the year!». I actually have a lot left in the tank. I understand that this is how it is. They criticize LeBron James, so of course, they'll criticize me! I don't take offense to it. I don't underestimate the work I put in and how I take care of my body, my professionalism, and that's why I'm able to perform at such a high level at 34 years old».
There's no doubt that McCollum is performing to his top form at the moment, with a central role on Lokomotiv that allows him to showcase his talent. As he says, he doesn't plan on parting ways with basketball anytime soon.
«I have many years left, I always say that when they stop double-teaming me, that's when I'll stop playing. As you can see, they double-team me, they bring hell, they design traps so that they can stop me, so I know I still got plenty more years. I think I got a lot of gas left, I just got to continue to be healthy, to take care of my body».
As for future plans, McCollum wants to stay involved with basketball no matter what. «When I'm done playing I'd like to be an analyst, I wanna give back to the game of basketball, because it's given me so much. It's such an important part of my life, you know, to be done with it completely, I think it would be like a piece of me is missing. So I'll still be around, maybe you'll see me on TV one day! [laughs]. That will happen several years down the road».
«I always had a goal that I want to play for at least 15 years. I don't know why that number stuck, but this is year 12, so if I can stay healthy, I can make that even more, so I just take it one day at a time, but my main goal is to make it at least to 15 years, but not just make it. I wanna be a dominant player, an impact player, a high-level player. I don't want to just be on the roster. It's going to take a lot of hard work, and dedication for my whole career».
«In the short term, I'd like to win a championship, I think the best way to start is here, Lokomotiv Kuban, and try to push them back to the EuroLeague ranks, to give this organization a championship. Individually, after this season I'd like to be the #1 scorer in EuroCup. I try not to focus too much on individual goals, but when you're close to something, and then you know it's possible, then it's nice that maybe you can achieve it. The long-term look at it, I never say I wanna be the #1 scorer in EuroCup or this or that, I just want to play basketball and whatever happens, happens. My mindset allows me to be stress-free and allows me not to worry, it allows the game to be fun. But now that I know I'm close, it will be a special moment when it happens. I don't know how many games it will take, you never know. But when it does happen, I think it will be a tribute to my hard work, my success».