Former EuroCup champion Mantas Kalnietis is a driving force for Lokomotiv Kuban Krasnodar and the EuroCup leader in assists this season. In this interview for the official site of EuroCup, he recalls winning the crown in 2013 and talks about what his team must do to challenge for it again.
Hello, Mantas. Congratulations on your first Top 16 win this season. You allowed only 67 points against Partizan. What did you change to improve your defense?

Thank you. Generally, we didn't change a lot or anything like that. It seems that when we do what we are supposed to do, it works. It was a question of mentality and effort and after those two games, especially in Trento, we understood we were in a dangerous situation. Our mentality changed and it helped us.

You had an 8-2 regular-season record, losing only against Virtus, and went 0-2 in the Top 16. What happened?

I cannot say we were overconfident. Alan [Williams] was the main player in our team, covering all the situations in the paint, and we got used to playing with him. And when we lost him, there was a huge gap in his position. We couldn't hide that and in our roster, with some young guys without experience, it wasn't easy to replace him.

You will now play against Partizan in Belgrade. How important are adjustments in back-to-back games against the same opponent?

It is important, of course. We need to learn from our mistakes, all the ones we made, even when we won at home. Of course, to be honest, I am really happy that we will play in Belgrade without fans! It is not the same! The key for us, I hope, is the signing of Drew Gordon, who can help us cover the '5' position. We will have more power under the baskets.

This is your second stint with Lokomotiv. In the first one, you helped Loko win the EuroCup in 2013. What do you remember about it?

The memories are still great. Every title you get remains in your head all your life. No matter which competition it was or which title you won, you remember those moments as some of the best. And of course, I remember everything, especially because it was the first big title for me. We had a great team with Calathes, Hendrix, Jasaitis, Derrick Brown... I only have great memories about it.

You are scoring less and passing the ball more - and better - every season. Has experience helped you change your playing style?

I cannot really say, you know? We have so many scorers on this team and my job is to organize the game. It is not like I am going to the game with the idea to make a number of passes or something. You just react to the situation and when you have such great scorers on the team, you just try to find them. Of course, if the situation allows me to shoot the ball, I will try to do that.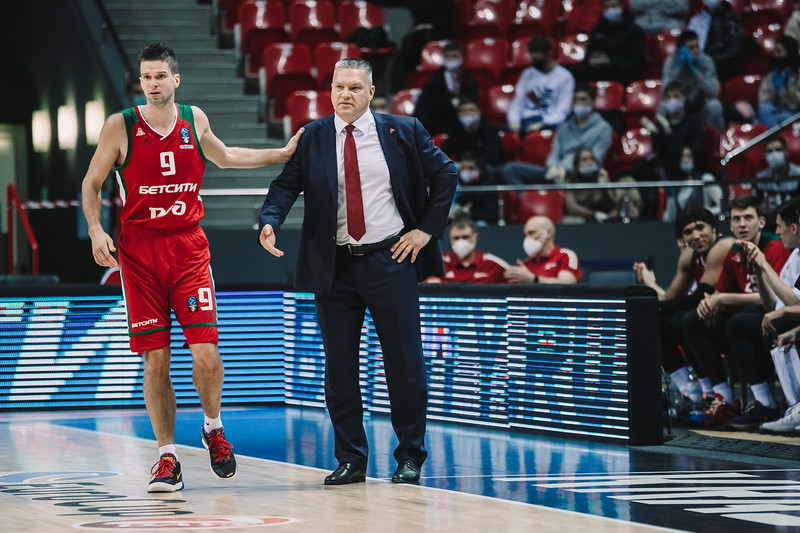 There is a Lithuanian connection in Krasnodar with Mindaugas Kuzminskas and you. How great is it for you to have each other on this team?

It is very important. We are not a big country and especially when you play abroad, there is not a big chance to have a teammate from your same country. Of course, we go everywhere together and spend a lot of time together. I would say we are both happy to have each other.

Not only has Lokomotiv signed Gordon, but also Nigel Williams-Goss. How can they help you for the remainder of the season?

For sure, we are going to become stronger because like I said, we have talented young guys, but sometimes, especially in those difficult moments, in important games, it is not easy for them without experience to play those minutes. Our rotation needed to be bigger and with those names, we are going to be successful.

This is your sixth EuroCup season and your fourth with Lokomotiv. How has the competition grown over the years?

You know, generally, the EuroLeague organization keeps improving every year. I cannot say that it changed a lot in terms of basketball, there were great teams eight years ago and there are great teams now. Basketball is the same, but you can feel that the organization improves every year and is going forward. Some small details keep getting better, but basketball-wise, there is not a big difference between now and eight years ago.

Other than Lokomotiv, which teams do you see as the biggest contenders to the EuroCup title?

It is not a big secret that Virtus is one of them. They signed Belinelli and are the main favorites to win the title, but you never know. I hope we will be there, too, even though we are now in a tough situation. I watched Joventut Badalona and UNICS Kazan are they are strong teams. You never know what it is going to happen. Now, the situation in basketball changes so fast that one month you are in good shape, but injuries and other things can completely change the situation. Right now, Virtus is probably the biggest favorite, but you never know. It is a long way to the final and the title.

Lokomotiv didn't make it to the Top 16 last season. What's the goal this time around?

Right now, I cannot say that it is in our heads to win the title, you know? We are trying to go game by game. When you look too far ahead into the future, you can be punished in the present time. Like I said, we are trying to go game by game and don't think too much about the future and what is going to happen.