Nigel Williams-Goss before the third match of the quarterfinal series with UNICS gave a interview to the official website of the EuroCup, in which he spoke about the team's mood before the game in Kazan.
Hello, Nigel. First things first, how is Lokomotiv feeling after bouncing back in Game 2?

I think we feel good going into Game 3. Honestly, even though we lost Game 1, we felt good about Game 1. We had 20 turnovers, eight missed free throws and still only lost by six points. So we felt good going into Game 2, that if we kind of cleaned some things up, we would be okay. We did, and we were able to get the win. So we feel good going into Game 3 and are just looking forward to it.

UNICS made only 32.5% of its two-pointers but hit 19 three-pointers in the opener. Did they surprise you?

You've got to give them credit for making shots, but when a team shoots their career-best from three and you add that, like I said, to our 20 turnovers and eight missed free throws, to only lose the game by six... Obviously, as a team, you feel good that, again, if you can control what you can control and make their three-point looks a little bit tougher, that you would have a good chance going forward. And again, I think Game 2, they only hit 10 three-pointers and we have obviously a lot less turnovers, and we were able to win the game.

Both games were very different, and Game 3 may not be similar to any of them. How important is scouting in the middle of a playoffs series?

I think that's what makes series so fun to play because it's kind of like playing chess, you know? Both teams are trying to make strategic moves before the game and then during the game you're trying to react to maybe things that they changed. So, it's really just like a chess game and I think that, as a basketball player, that's why you love to play in competitive playoff series.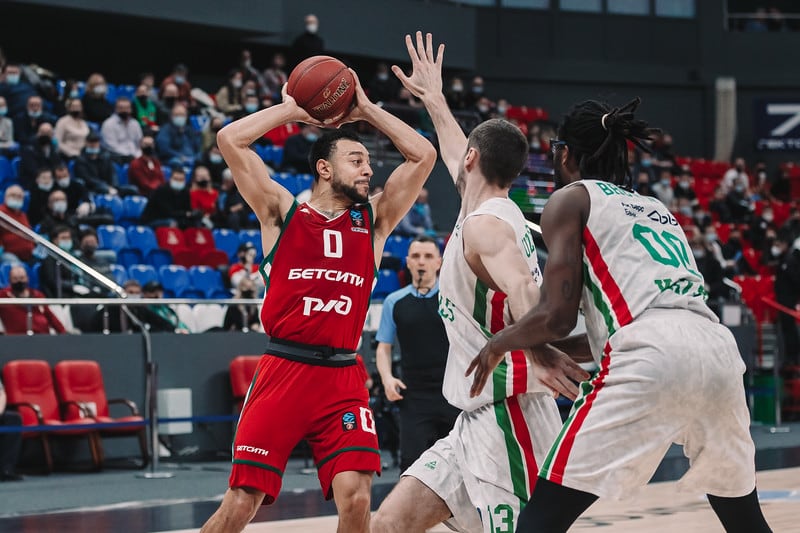 This will be your fourth do-or-die game in this year's EuroCup and UNICS's first. Does that give you some sort of advantage?

I can't really speak for UNICS or what their mindset is, but for us, like you said, we have been able to be in this position a few times already and we've answered the call every time that we've been in this position. So, we feel good about where we are. Obviously, we know we have to bring maximum effort and focus into the next game. We've been here before and we've been able to rise to the occasion. So, we think we can do it again.

You share the backcourt with two former EuroCup champions, Will Cummings and Mantas Kalnietis. How great is it to be among so many talented guards?

It has been unbelievable. I think that Mantas and Will are two different styles of guards, you know, with Mantas being a little bit taller and obviously being one of the best passers in Europe, and then with Will just being so offensively gifted and fast. It's just been great to play alongside two really, really good guards. I think the three of us have obviously jelled together quickly and it's been able to translate into wins, which is the most important thing, so it's been great.

Your coach, Evgeny Pashutin, has a reputation for giving a lot of freedom to his players, which suits your playing style. How comfortable do you feel playing for him?

Right now, in this moment, I wouldn't want to be playing for anybody else, you know? He gives us, like you said, a lot of confidence and a lot of freedom, and I think you can do that with a group like ours with a lot of veteran players that played at a high level. He brings us here for a reason and he trusts us, and I think the whole team is just kind of jelling at the right time.

Your first experience in the EuroCup was with Partizan. It was also your first season in Europe. How was it?

I think that kind of set the foundation for my career, really. It was my first time as a professional and obviously as a rookie, people want to see how good is this player after he leaves college. So for me, I think it kind of set the foundation for my career and obviously was fortunate enough to play at a big-time club like Olympiacos and then going to the NBA. So, for me, it was a great first experience to start my career. But this experience has been unbelievable, too, as far as being one game away now from the EuroCup Semifinals. Both experiences have been great for me.
Your main off-the-court hobby is fashion. Will we see your fashion collection at some point in the future?

I really love fashion. And it's tough because I feel like nowadays the fashion world, especially for basketball players in fashion, is getting a little bit oversaturated. You know, people start making money and they can afford designer clothes, then everyone is into fashion. But for me, my love for fashion started when I was really young, like in elementary school. I just always really loved clothes and stuff like that. So I don't really know what I want to do in the future but I know definitely that fashion will be a part of my life forever.

UNICS and Lokomotiv are big sports rivals and play in similar arenas. Are you enjoying this rivalry?

Yes, for sure. These are two well-organized and well-put-together teams and organizations, and then, like you said, two gyms that are pretty much identical. I think our gym is a little bit newer but same structure and everything, same building plans. So it's kind of interesting – we are playing at home and playing away – but pretty much in the same gym. And then again, the two clubs have had a lot of success in Europe. I think the two teams, right now, are two of the best teams not only in Russia, but in Europe. UNICS has an unbelievable team this year and they are having a great season. So it's just been really fun to compete against UNICS during the series.

What needs to be done to win this game and make it to the semifinals?

I think, for us, it just comes down to our defense and keeping them off the offensive glass. One of their biggest strengths is their relentless effort in crashing the offensive glass. So I think if we are able to get stops, which will need to do to win the game, we have to close those stops with rebounds. And I think that if we do those things, then just stay mentally sharp and keep a clear head whether they make a run or no matter what happens. I think if we do those three things, we will have a good chance to move on.